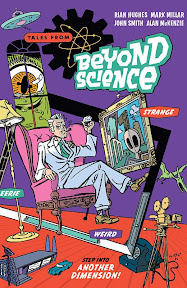 US publisher Image Comics will present
Tales from Beyond Science
, an outrageously pulpy collection of science fiction short stories in December in one hardcover volume, all drawn by Rian Hughes and written by some of Britain's finest comic writers, including Mark Millar (
Kick Ass
and
WANTED
), Alan McKenzie (
The Harrison Ford Story
) and John Smith (
Devin Waugh
), all together in one colorful oversized hardcover, specially designed by Rian.
Rian began his career as a designer working for
Smash Hits
,
i-D
magazine and a series of record sleeve design companies. His early comic strip work appeared in the alternative press magazine
Escape
, and this led to work for Belgian art-house publisher Magic Strip. His first mainstream UK comic work was Dan Dare with Grant Morrison for Fleetway's short-lived
Revolver
title, and from there he moved to
2000AD
, illustrating such series as 'Really and Truly', again with Morrison, and 'Robo-Hunter' with Peter Hogan.
Dividing his time between illustration and design, he has provided design, custom type and illustration for advertising campaigns, CD and record sleeves, book jackets and graphic novels, and numerous comic book logos for mainstream comic publishers such as DC Comics and Marvel. Recent publications include
Cult-ure: Ideas can be Dangerous
(Fiell) and
Yesterday's Tomorrows
, published by Knockabout in the UK and Image in the US.
Tales from Beyond Science
will invite readers to follow Hilary Tremayne on eight surreal journeys into the unknown, where they may discover the truth behind the mysteries of spontaneous human combustion, the Bermuda Triangle, the lost 13th month, and the real reason men have nipples.
"I worked with some great writers on these stories," said Hughes. "And it's nice to be bringing all these tales together in one beautiful volume, with all-new material, via Image."
- Tales from Beyond Science (OCT110500, ISBN: 978-1-60706-471-8), an 88-page full-colour sci-fi mystery and suspense hardcover for $16.99, will be on sale in US stores 21st December and is available for order in the upcoming October issue of Previews.

- For more information, visit www.imagecomics.com